Storytelling is our Superpower: Celebrating Islamic History Month
---
The Canadian Race Relations Foundation (CRRF) is pleased to announce a national hybrid event in celebration of Canada's Islamic History Month.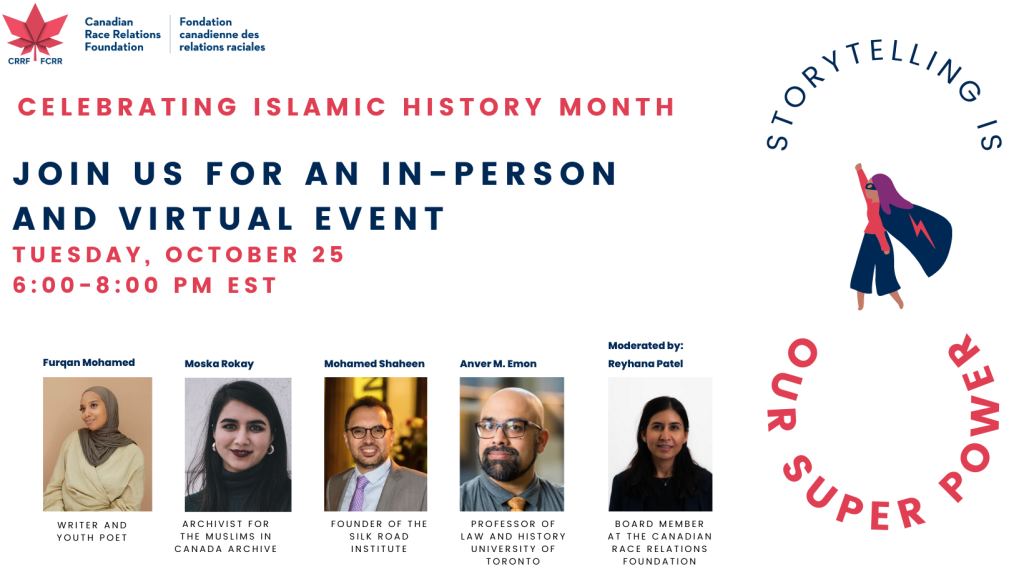 Stereotyping, racism and Islamophobia have long been persistent in Western constructs of Muslim identities. Discrimination against Muslim communities has gained momentum in online and offline spaces, leading to detrimental threats to the safety and well-being of Muslims and threatening to obscure the myriad historical and present-day contributions of these communities.
The CRRF is committed to confronting all forms of discrimination, Islamophobia and hate-fueled violence. At this upcoming event, the CRRF is pleased to create space for storytelling, a powerful tool to counter harmful stereotypes and misinformation about Muslims and platform the vibrant diversity of experiences within Canada's Muslim communities.
Join us for this in-person and virtual event, where you'll hear from several prominent speakers, including:
Anver Emon, Professor of Law & History; Canada Research Chair in Islamic Law & History; and Director, Institute of Islamic Studies;
Furqan Mohamed, Culture Editor for Mimp Magazine;
Moska Rokay, Archivist, Muslims in Canada Archives, University of Toronto;
Mohamed Shaheen Board Chair and Artistic Director, Silk Road Institute.
The event will be moderated by CRRF Board Member Reyhana Patel (Board member, Canadian Race Relations Foundation, Director of Communications and Government Relations, International NGO Islamic Relief and a former BBC News journalist).
It will be held on Tuesday, October 25 from 6 p.m. – 8 p.m. EDT at the Japanese Canadian Cultural Centre at 6 Garamond Court Toronto, ON M3C 1Z5.
Register here for the in-person event.