MiCA Information Session / Session d'information AMC
**La version française suit / The French version follows**
We're excited to announce that the Muslims in Canada Archives (MiCA) will co-host with C.O.R (Communication pour l'ouverture et le rapprochement interculturel) a community forum in Montreal on Thursday, December 8th, 2022 to introduce MiCA-Quebec to the Montreal Muslim communities. With opening remarks from MP Sameer Zuberi (Pierrefonds-Dollard, QC), the event will be bi-lingual to accommodate both Francophone and Anglophone residents of Montreal and its vicinities.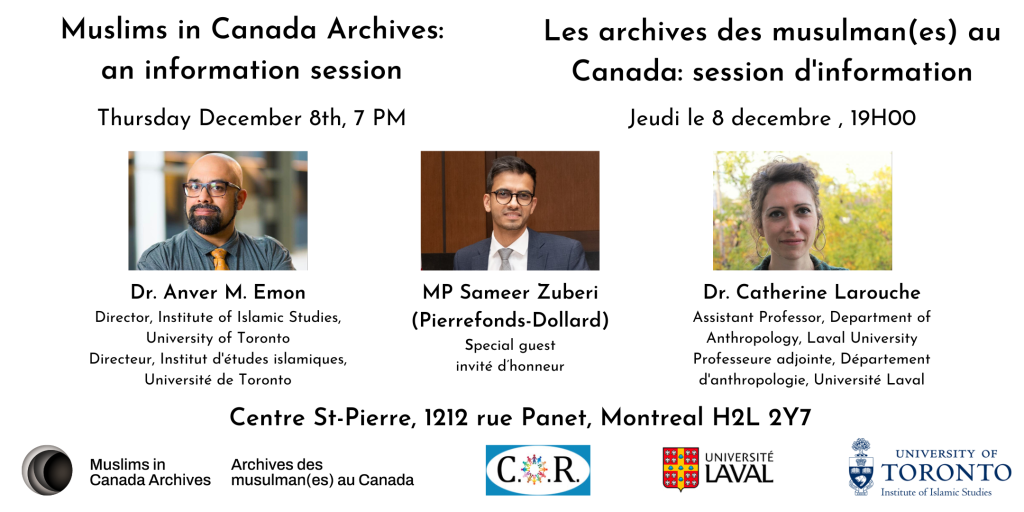 Date: Thursday December 8th, 2022
Time: 7:00PM
Location: Centre St-Pierre, 1212 rue Panet, Montreal H2L 2Y7
Speakers:
Dr. Anver M. Emon – Director, Institute of Islamic Studies, University of Toronto
Dr. Catherine Larouche – Assistant Professor, Department of Anthropology, Laval University
With special guest MP Sameer Zuberi (Pierrefonds-Dollard, QC).
Drs. Anver Emon (representing MiCA-National) and Catherine Larouche (representing MiCA-Quebec) will share details about the project and its importance on both a national scale and in the province of Quebec.
Professors Emon and Larouche will discuss the value our everyday items (photographs, flyers, postcards, tapes, CDs, etc.) have when they are collected and organized. They will show some examples of collected materials so far and how the individuals and communities in Quebec can contribute to the growing archive.
If you know of individuals and community organizations in the Montreal area who may be interested in this event, we encourage you to share this invitation.
We are especially grateful to C.O.R and Université Laval for their generous support of the project.
**La version anglaise précède / The English version precedes**
Nous sommes ravis d'annoncer que les Archives des musulman(es) au Canada (AMC) et C.O.R (l'organisation Communication pour l'ouverture et le rapprochement inter-culturel) co-animeront un forum communautaire à Montréal le jeudi 8 décembre 2022 afin de présenter l'initiative AMC-Québec aux communautés musulman(es) de Montréal. Avec le discours d'ouverture du député fédéral, Sameer Zuberi (Pierrefonds-Dollard, Qc), l'événement sera bilingue en vue d'accueillir les résidents francophones et anglophones de Montréal ainsi que ses environs.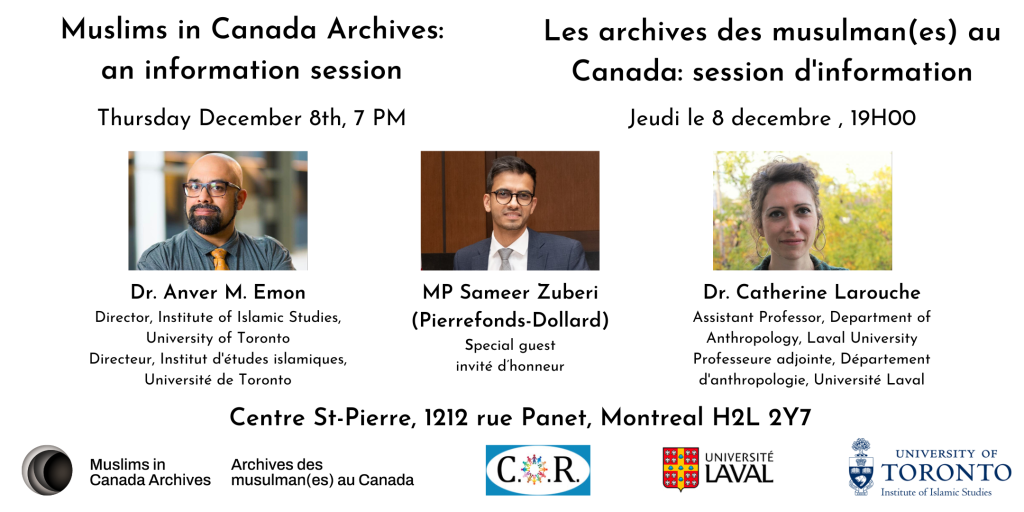 Date : jeudi 8 décembre 2022
Heure : 19h00
Lieu : Centre St-Pierre, 1212 rue Panet, Montréal H2L 2Y7
Conférenciers invités:
Anver M. Emon – Directeur, Institut d'études islamiques, Université de Toronto
Catherine Larouche – Professeure adjointe, Département d'anthropologie, Université Laval
Avec la présence de notre invité d'honneur, le député Sameer Zuberi (Pierrefonds-Dollard, QC).
Les professeurs Anver Emon (représentant de l'initiative AMC à l'échelle nationale) et Catherine Larouche (représentante de l'initiative AMC à l'échelle provinciale pour le Québec) partageront les détails du projet et discuteront de son importance à l'échelle nationale ainsi qu'au Québec.
Ils traiteront de la valeur potentielle de nos objets quotidiens (entres autres : des photos, des brochures circulaires, des cartes postales, des cassettes ou CD) lorsqu'ils sont conservés et organisés. Ils montreront quelques exemples de matériaux recueillis jusqu'à présent et présenteront les différentes façons à travers lesquelles les personnes et communautés québécoises peuvent contribuer à la croissance d'AMC.
Si vous connaissez des personnes et/ou des organismes communautaires dans la région de Montréal qui seraient intéressés à assister à l'événement du 8 décembre, n'hésitez pas à faire circuler l'information.
Nous remercions particulièrement le C.O.R et l'Université Laval pour le soutien généreux qu'ils offrent au projet.