Preserving & Sharing the Legacies of Muslims in Canada: Showcasing MiCA
MiCA presents on our work from the past year as well as a look into where we are heading
Date: March 31, 2022
Time: 6pm to 8pm EDT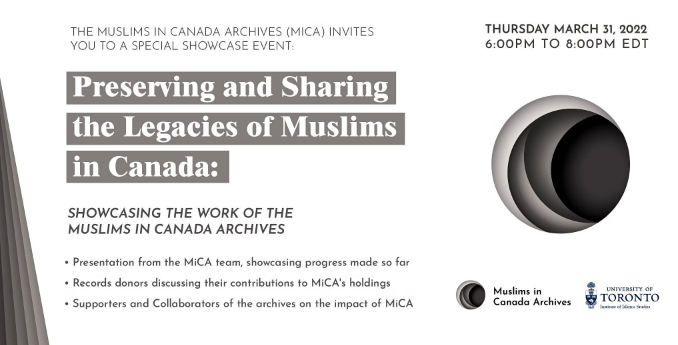 Since the Muslims in Canada Archives' inception in 2019, we have grown significantly from concept to full-fledged archives.
We want to dedicate this time to present to the diverse communities we serve what we have done to work towards our mission of preserving the documentary heritage of Muslims in Canada. We will begin by introducing our expanding team and showing some material that we have received. We will also hear from some of our donors about what their experience was like going through the process of donating archival material as well as supporters of the archives who will speak on why this project is so important. After this, we will talk about our new digital space and some of the things we have learned along the way from working with the community.
We hope this event provides a clearer picture of what we do, how we are doing it, and most importantly why we are doing it.
About the Muslims in Canada Archives
The Muslims in Canada Archives (MiCA), a collaborative and participatory initiative at the Institute for Islamic Studies (IIS), provides a platform for the missing Muslim voices in Canada.  
MiCA acquires, organizes, preserves, and makes accessible records of and about Canadian Muslim individuals and organizations that possess enduring value for the preservation of the history and documentary heritage of Muslims in Canada. 
About Moska Rokay, Community Archivist
Moska Rokay is the Archivist of the Muslims in Canada Archives (MiCA) at the Institute of Islamic Studies (University of Toronto). She is an advocate for community-centered, activist archives, especially of diaspora communities. She completed her Master of Information at the University of Toronto (2019). In 2020, she was the recipient of the ACA New Professional Award and Archivaria's Gordon Dodds Student Paper Prize. She currently sits on the Board of Directors of the Archives Association of Ontario (AAO) as a Director Without Portfolio. 
Watch recorded event here: