Two Sides of the Same Coin: Difference Between Islamic Art and Craft? feat. Marcus Milwright
Professor Marcus Milwright discusses the distinctions made between Islamic art and craft.
---
This conversation will focus on the ways in which the crafts of the Islamic world have been represented in scholarship and in contemporary art and museum practice. A particular issue in this respect is the imposition of a dichotomy, derived from Western European art historical scholarship, that a distinction can be made in material and visual culture between 'Fine Art' and 'Craft,' with the latter being accorded less significance in art historical terms. The session will question the validity of this distinction, and suggest ways in which we can view the making of Islamic art, both historically and in the present day, on its own terms.*
Marcus Milwright is Professor of Islamic Art and Archaeology in the Department of Art History and Visual Studies, at the University of Victoria. He is involved in archaeological and architectural projects in Jordan, Syria and Greece and has created the Crafts of Syria website (https://craftsofsyria.uvic.ca). Milwright's books include Fortress of the Raven: Karak in the Middle Islamic Period (Brill, 2008); An Introduction to Islamic Archaeology (Edinburgh University Press, 2010); The Dome of the Rock and its Umayyad Mosaic Inscriptions (Edinburgh University Press, 2016); Islamic Arts and Crafts: An Anthology (Edinburgh University Press, 2017); and Middle Eastern Encounters: Collected Essays on Visual, Material, and Textual Interactions between the Eighth and the Twenty-First Centuries (Gorgias Press, 2020). His forthcoming book is a cultural history of the balsam plantation of Matarea in Egypt, which will be published by Edinburgh University Press in 2021.
*Please note: Due to unforeseen circumstances, Parviz Tanavoli will not be able to join us for this session as previously advertised. This conversation will be hosted by the series organizer, Dr Fahmida Suleman, Curator, Islamic World, Royal Ontario Museum, Toronto, Canada.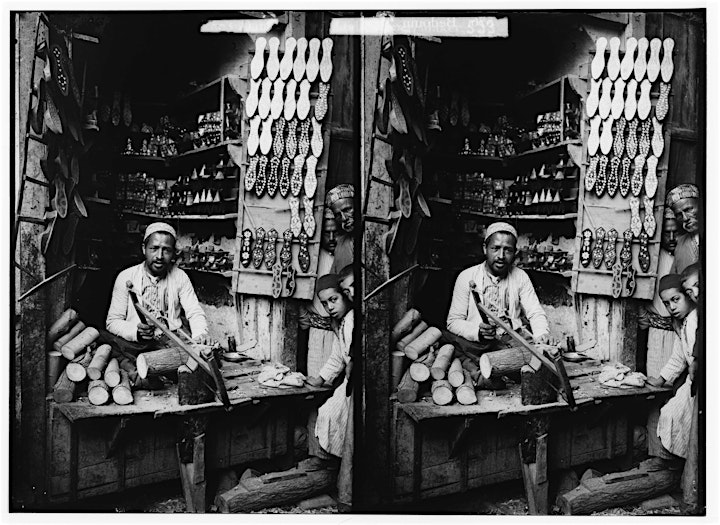 Photo: Making and selling mother-of-pearl inlaid shoes, Damascus, Syria, 1904. Stereoview card, published by T. W. Ingersoll, Holy Land Series, no. 556. © Matson Archive, Library of Congress
Photo: Bath clogs, Turkey, 1800–1850 ©Trustees of the British Museum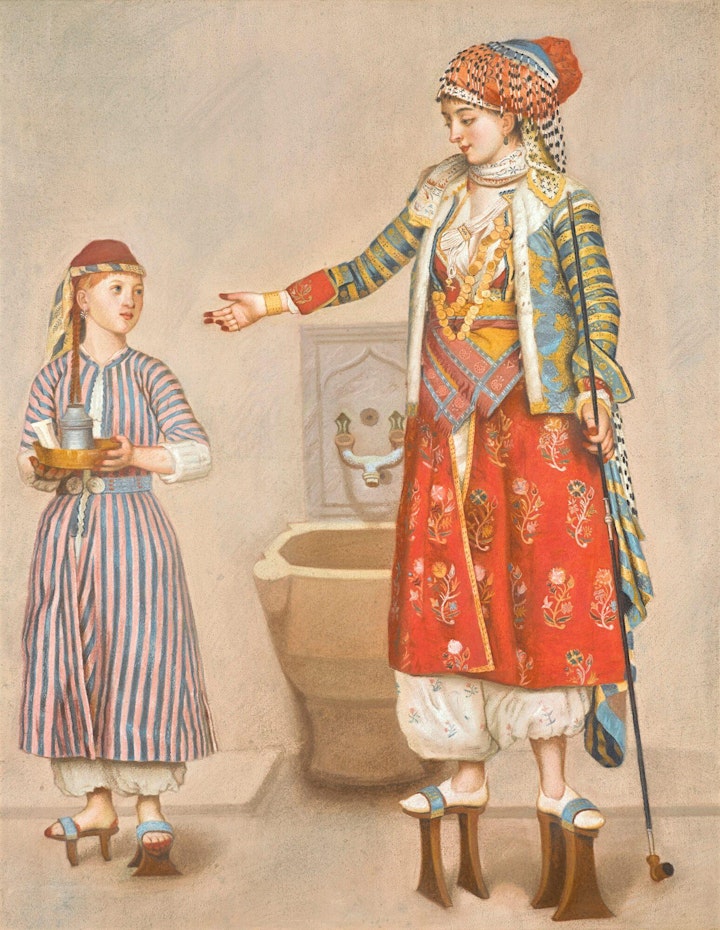 Photo: Woman and servant girl in a Turkish bathhouse, Jean-Etienne Liotard (1702–1789).
About the Islamic Art and Material Culture Collaborative (IAMCC)
This event is part of an eight-part monthly series entitled "Crafting Conversations: Discourses on the Craft Heritage of the Islamic World – Past, Present and Future," an initiative of the Islamic Art and Material Culture Collaborative (IAMCC), Toronto, Canada.
The IAMCC is a new research network based in Toronto that brings together the capacities and resources of the University of Toronto, the Royal Ontario Museum and the Aga Khan Museum. Its aim is to foster innovative and interdisciplinary research on the diverse arts and material cultures of the Islamic world in its broadest sense.
View recorded event here: