Systemic Islamophobia Research Lab (SIRL)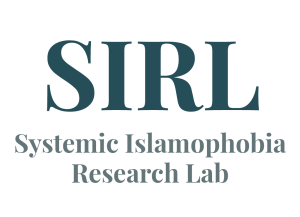 Importance of SIRL
Systemic Islamophobia is a difficult research subject because the evidence is often hidden whether for reasons of privacy, intellectual property, or national security. But that does not mean systemic Islamophobia does not exist. Much of the public debate on Islamophobia, though, ignores the way in which Islamophobia is systemically enabled by the very institutions that govern Canada, that educate Canadians, and that make possible our individual market participation. SIRL exists to support researchers identify and utilize creative methodologies to explore systemic Islamophobia's existence across our institutional landscape.
Objective
To sustain a research lab on systemic Islamophobia in Canada that will support scholars, and foster creative methodologies strategies to examine systemic Islamophobia across the Canadian institutional landscape.. The lab will publish its findings through academic venues and public-access platforms to enable a more informed Canadian citizenry.
Status
The IIS secured a SSHRC Partnership Development Grant to support new scholars to undertake innovative research on systemic Islamophobia. Having published "Systemic Islamophobia in Canada: A Research Agenda" in 2023, SIRL is now forming its sustainable lab, which will include one or more Post-Doctoral Fellows examining Children's Aid Societies and other sites of systemic Islamophobia.
Contact