[Sep 28, 2023] Panel Discussion at the University of Toronto at Mississauga on Islamophobia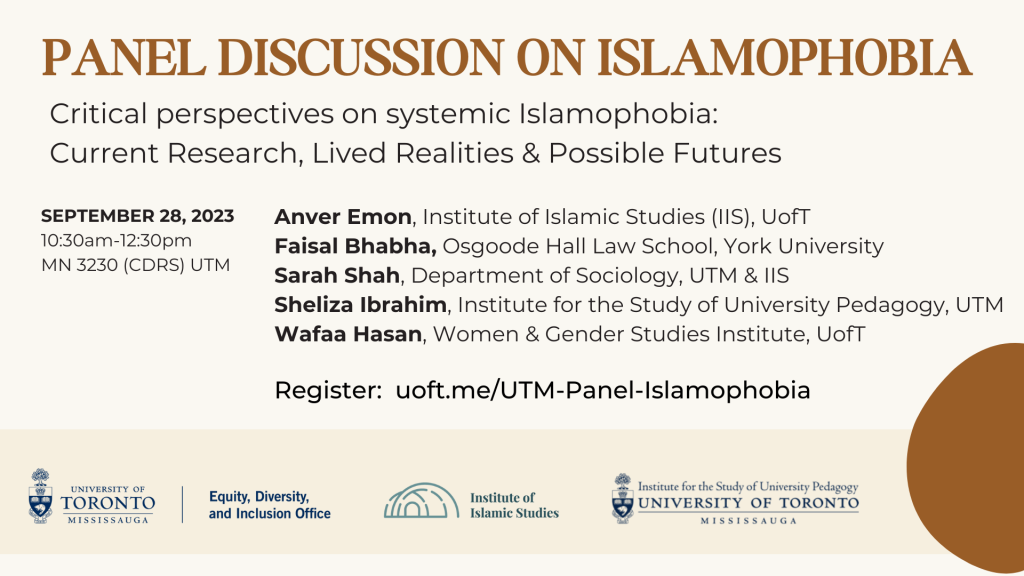 Critical perspectives on systemic Islamophobia: Current Research, Lived Realities & Possible Futures. 
Date: Sept 28th: 10:30am-12:30pm – (with the Panel-10:30-11:30 & Lunch-11:30-12:30)
Location: Collaborative Digital Research Space CDRS is located on Mississauga campus – Maanjiwe Nendamowinan building, UTM, 3359 Mississauga Rd, Mississauga
Description: This panel will bring together scholars examining critical perspectives on systemic Islamophobia in Canadian contexts. The panel will address the relevance of scholarly work on Islamophobia, while also contributing to tri-campus initiatives, faculty collaboration, and students' intellectual growth in this field. Discussions on current research, future perspectives and inquiry from various disciplines include; higher education & university pedagogy, politics, law, historical studies, diaspora & transnational studies, and women & gender studies. Panelists will identify the democratic accountability of society and institutions to consider the systemic implications for whether, how, and under what conditions Islamophobia is enabled and perpetuated. They will centre lived realities of Muslims primarily in Canada but internationally as well. A longer lasting outcome of the panel discussion will be to create opportunities for faculty and future researchers/grad students to consider intersections in their scholarly work and foster critical collaborations to further this field of study.
Audience: Faculty and Grad students, open to all interested through our reach via advertising from co-sponsors/collaborators from various departments.
Panelists: include Anver Emon, Sarah Shah, Faisal Bhabha, Sheliza Ibrahim, and Wafaa Hasan. 
Co-sponsors: UTM Collaborative Digital Research Space, UTM Equity, Diversity, and Inclusion Office, UTM Institute for the Study of University Pedagogy, and U of T Institute of Islamic Studies.